Vietnam travel information
Geography
Set along the eastern coast of the Indochinese Peninsula, Vietnam faces the South China Sea, and borders China, Cambodia and Laos to the north and west. A relatively small country (about the size of Italy), Vietnam's geography is remarkably varied and complex. The country is S-shaped – broad in the north and very narrow in the center, where at one point (Quang Binh province) it is only 30 miles wide.
Three-quarters of the country consists of mountains and hills. The highest peak, Mt. Fansipan, is 10,309 ft. (3142 m.) is part of the Hoang Lien Son Mountains in the northwest, and the Truong Son Mountains are the backbone of the country, running almost the length of the country along the border with Laos and Cambodia. Vietnam has two major deltas – the Red River Delta in the north, which includes Ha Noi, and the famous Mekong Delta that covers the southern portion of the country. Vietnam is over 1000 miles long, with more than 2000 miles of scenic coastline.
Climate
Vietnam is in a Northern Hemisphere, with a tropical monsoon type climate. October to March, the winter monsoon winds comes from the northeast, bringing chillier temperatures to the provinces north of Nha Trang, but dry and warm temperatures to the south. From April to October, the southwestern monsoon brings warm, humid weather to the whole country except for those areas sheltered by mountains, such as coastal lowlands and Red River Delta. Northern Vietnam has a cooler season, with occasion frost and snow on the highest northern mountains. In the southern Vietnam, the lowlands are sheltered from outbreaks of colder northerly air and the dry season is warm to hot with much sunshine. Vietnam has a single rainy season (May-September) that brings abundant rainfall; with rain infrequent and light during the remainder of the year.
The high tourist season is September to March, though disruptive storms can occur in the center of the country from September to December. The best time for the central coast beaches is May and August, and autumn is the best time to find clear skies in Ha Long Bay.
Famous Destinations
Hanoi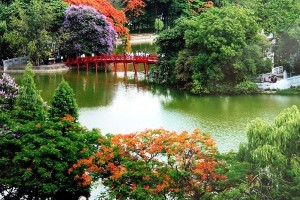 Ha Noi is located in the Red River Delta, in the center of North Viet Nam. It is encompassed by Thai Nguyen and Vinh Phuc provines to the north, Ha Nam and Hoa Binh provinces to the south, Bac Giang, Bac Ninh and Hung Yen provinces to the east, Hoa Binh and Phu Tho provinces to the west.
Ha Noi means "the hinterland between the rivers" (Ha: river, Noi: interior). Ha Noi's territory is washed by the Red River (the portion of the Red River embracing Ha Noi is approximately 40km long) and its tributaries, but there are some other rivers flowing through the capital, including Duong, Cau, Ca Lo, Day, Nhue, Tich, To Lich and Kim Nguu.
Ha Noi is situated in a tropical monsoon zone with two main seasons. During the dry season, which lasts from October to April, it is cold and there is very little rainfall, except from January to March, when the weather is still cold but there is some light rain. The wet season, from May to September, is hot with heavy rains and storms.
Throughout the thousand years of its eventful history, marked by destruction, wars and natural calamities, Ha Noi still preserves many ancient architectural works including the Old Quarter and over 600 pagodas and temples. Famous sites include the One Pillar Pagoda (built in 1049), the Temple of Literature (built in 1070), Ha Noi Citadel, Ha Noi Opera House, President Ho Chi Minh's Mausoleum…
Ha Noi also characteristically contains 18 beautiful lakes such as Hoan Kiem Lake, West Lake, and Truc Bach Lake…, which are the lungs of the city, with their surrounding gardens and trees providing a vital source of energy.
Many traditional handicrafts are also practiced in Ha Noi including bronze molding, silver carving, lacquer, and embroidery. Ha Noi has many famous traditional professional handicraft villages such as Bat Trang pottery village, Ngu Xa bronze casting village, Yen Thai glossy silk…
Ha Long Bay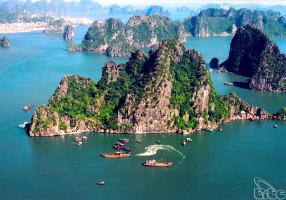 Situated in the north-east region of Viet Nam, Ha Long Bay is a part of Bac Bo Gulf and comprises the sea area of Ha Long City, Cam Pha City and a part of Van Don island district, Quang Ninh Province. It borders Cat Ba Island to the south-west, the mainland to the west with a 120km-long coastline.
Ha Long Bay covers a total area of 1,553km², including 1,969 islands of various sizes, 989 of which have been given names. There are two kinds, limestone and schist, which are concentrated in two main zones: the south-east (belonging to Bai Tu Long Bay) and the south-west (belonging to Ha Long Bay). The average geological age of the islands is between 250 and 280 million years old.
Ha Long City
Ha Long City, formerly the Hon Gai Town, is the cultural, economic and political centre of Quang Ninh Province. It borders Cam Pha City to the east, the Quang Yen Town to the west, the Hoanh Bo District to the north and Ha Long Bay to the south with the coastline of 20km.
The city is divided into two parts: East Ha Long and West Ha Long. The eastern part is an industrial zone where most of the province's official buildings are also concentrated. The western part, also called Bai Chay, is the animated tourism zone.
Ha Long's population are most having emigrated from other places to settle here. Ha Long Bay is famous internationally, and is recognized as a World Heritage by UNESCO for its thousands of natural islands. Also in the city, there are temples, pagodas and historical relics.In addition to the most active branch of tourism, there are other economic activities such as: trade, seaport, coal, marine products and the production of construction materials
Hue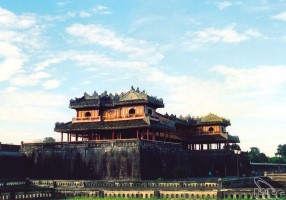 Hue City is one of places which have many cultural heritage. Up to now, there is no place like Hue remaining a lot of originally historical vestiges as in this ancient Capital City.
On the northern bank of Perfume River has relics consisting of palaces, which were constructed as arc defensive ramparts with 11km length. This valuable construction includes more than 100 architectural works which were extremely reflected the life of Emperors and mandarins under reign of Nguyen.
Situated in the middle of hills on the southern bank of Perfume River are very beautiful tombs of Kings Nguyen. Among these tombs are the four famous ones with the name and the arrangements of the tomb reflected each Emperor's points of view, personality and tastes. This is majestic Gia Long Tomb, imposing Minh Mang Tomb, poetic Tu Duc Tomb and magnificent Khai Dinh Tomb.
Hue is also an important center of Buddhism. In Hue and its surrounding still exist tens of pagodas constructed more 300 years ago, and a hundred of temples and pagodas built in the early century. Besides, Hue is a place where the royal music is originated, and a place with traditional famous dishes and sophisticated handicraft.
As a unique city of Vietnam still remains its form of City under Middle Age and the constructions of monarchic, Hue has become a big and invaluable museum. Therefore, vestiges in Hue ancient capital have been classified by the government as a very precious property and on December 1993 Hue has been recognized as a World Cultural Heritage Site by UNESCO.
Ho Chi Minh
In the core of the Mekong Delta, Ho Chi Minh City, formerly known as Saigon, is second the most important in Viet Nam after Ha Noi. It is not only a commercial center but also a scientific, technological, industrial and tourist center. The city is bathed by many rivers, arroyos and canals, the biggest river being the Saigon River.
The Port of Saigon, established in 1862, is accessible to ships weighing up to 30,000 tons, a rare advantage for an inland river port.
The climate is generally hot and humid. There are two distinctive seasons: the rainy season, from May to November, and the dry season, from December to April. The annual average temperature is 270C. The hottest month is April and the lowest is December. It is warm all year.
Many centuries ago, Saigon was already a busy commercial center. Merchants from China, Japan and many European countries would sail upstream the Saigon River to reach the islet of Pho, a trading center. In the year of 1874, Cho Lon merged with Saigon, forming the largest city in the Indochina. It had been many times celebrated as the Pearl of the Far East. After the reunification of the country, the 6th National Assembly in its meeting of the 2nd of July, 1976, has officially rebaptized Saigon, Ho Chi Minh City. The history of city relates closely with the struggle for the independence and freedom of Vietnam.
Today, Ho Chi Minh City is the big tourism center in Vietnam, attracting a large of visitors to Vietnam. Ho Chi Minh City has various attractions as Ho Chi Minh Museum, formerly known as Dragon House Wharf, Cu Chi Tunnels, system of museums, theatres, cultural houses… Recently, many tourist areas are invested such as Thanh Da, Binh Quoi Village, Dam Sen Park, Saigon Water Park, Suoi Tien, Ky Hoa…, which draw numerous tourists.
Despite its quite recent past, Ho Chi Minh City nevertheless possesses various beautiful buildings, displaying a characteristic combination of Vietnamese, Chinese and European cultures. These include Nha Rong (Dragon House Wharf), Quoc To Temple (National Ancestors Temple), Xa Tay (Municipal Office), Ho Chi Minh Municipal Theatre as well as many pagodas and churches (Vinh Nghiem, Giac Vien, Giac Lam, Phung Son pagodas…).
After more than 300 years of development, Ho Chi Minh City presents many ancient architectural constructions, famous vestiges and renowned sights. It is remarkable for its harmonious blending of traditional national values with northern and western cultural features.
Sapa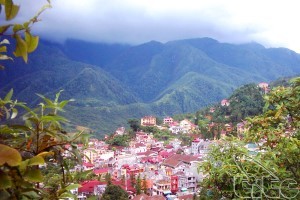 Located 38km from Lao Cai City, Sa Pa is a mountainous district of Lao Cai Province. Sa Pa District is very well-known with Sa Pa Townlet, a beautiful and romantic resort.
Visitor to Sa Pa in summer can feel the climate of four seasons in one day. In the morning and afternoon, it is cool like the weather of spring and autumn. At noon, it is as sunny and cloudless as the weather of summer. And it is cold in the evening. With no advance warning of a thunderstorm short and heavy rains may come at noon on any summer day. Subsequently, a rainbow appears, transforming Sa Pa into a magic land, which for years has been a constant source of poetic inspiration, lights up the whole region.
The best time to witness the scenic beauty of Sa Pa is in April and May. Before that period, the weather might be cold and foggy; after that period is the rainy season. In April and May, Sa Pa is blooming with flowers and green pastures. The clouds that settle in the valley in early morning quickly disappear into thin air.
Sa Pa has many natural sites such as Ham Rong Mountain, Silver Waterfall, Rattan Bridge, Bamboo Forest and Ta Phin Cave. Sa Pa is also the starting point for many climbers and scientists who want to reach the top of Fansipan Mountain, the highest mountain in Vietnam at 3,143m. Hoang Lien Mountain Range is also called the Alps of the North Sea area since Fansipan Mountain is not only the highest peak in Vietnam, but also in the Indochina Peninsula. The pyramid-shaped mountain is covered with clouds all year round and temperatures often drop below zero, especially at high elevations.
Hoi An (Ancient Town)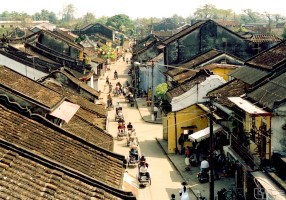 Hoi An is an old town down the Thu Bon River, on the coastal plain of Quang Nam Province, about 30 km south of Da Nang City. Hoi An used to be known on the international market with many different names such as Lam Ap, Faifo, Hoai Pho and Hoi An.
What is so special about Hoi An is that this little port town is in an incredible state of preservation. It offers some of the most densely-concentrated sights in Viet Nam with its old streets bordered with ancient houses and assembly halls, its pagodas, temples, ancient wells and tombs. In total, more than a thousand places of interest. The architecture of Hoi An is characterised by a harmonious blend of Vietnamese, Chinese and Japanese influences. After many centuries, Hoi An is still respectful of its traditions, folk festivals, beliefs and of its sophisticated culinary art. Set in a quiet environment, Hoi An is surrounded by peaceful villages that have crafts such as carpentry, bronze making, ceramic.
Da Lat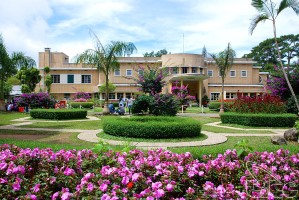 Da Lat, capital of Lam Dong Province, is located approximately 308km northeast of Ho Chi Minh City. At an elevation of 1,500m, Da Lat bears the look of an Old French city. It was founded in 1897 when Doctor Alexandre Yersin recommended that the area be developed as a resort town.
Dalat has many natural and artificial lakes such as Ho Xuan Huong, Than Tho, Da Thien, and Tuyen Lam bordered by lines of pine trees, which are a well-known feature of Da Lat. A trip to Da Lat is not complete until one goes to the Da Lat Flower Gardens.
The temperate climate of Da Lat is suitable for flowers such as orchids, roses, lilies, and camellias. Nowadays, tourists not only limit themselves to Da Lat; they also visit the area of Langbian Highland and the ethnic minorities.
Langbian Mountain's highest peak at 2,165m is very tempting for climbers. From Lom Bieng Klo peak, one can see endless green mountains reflecting the silver rays of the sun. Many tours are organized in the area, including parachuting and climbing.
Mekong Delta
Located adjacent to Ho Chi Minh City, the Mekong River Delta is a particularly important economic – cultural region of the South.
Fertile alluvium of Mekong River with 2 main branches of Tien River and Hau River, the canal system along with forests and sea – islands create diversified ecosystem and unique landscapes for Mekong River Delta. The region has national parks, bird sanctuaries with countless species of rare and valuable birds, animals and plants such as Tram Chim National Park, Thap Muoi Stork Sanctuary (Dong Thap); Phu Quoc National Park (Kien Giang); Vam Ho Bird Sanctuary (Ben Tre); Bac Lieu Bird Sanctuary (Bac Lieu); U Minh Thuong and U Minh Ha National Park, Nam Can Mangrove Forest, bird sanctuaries of Cha La, Dam Doi, Ngoc Hien (Ca Mau)…
The Mekong River Delta also attracts visitors by lots of colorful flower gardens and immense orchards such as Sa Dec Flower Village (Dong Thap), Thanh Tam Flower Village (Long An), Cai Mon Fruit Village (Ben Tre)…
The bustling floating market days in the early morning such as Cai Rang (Can Tho), Phung Hiep (Hau Giang), Cai Be (Tien Giang), Nga Nam (Soc Trang) … or islets with sunny all year round such as Phung Islet, Oc Islet, Tien Islet (Ben Tre), My Phuoc Islet (Soc Trang); Thoi Son Islet (Tien Giang)… are also distinctive beauty of the Mekong River Delta.
In addition, the traditional folk festivals with unique cultural identity such as Ba Chua Xu, Ook om bok, Ngo boat race, Bay Nui cow race… and gentleness and hospitality Southern people are also interesting tourism products for tourists.
To the Mekong River Delta, visitors can enjoy folk art forms including cai luong, tones of ly, ho or traditional songs and dances of Khmer people. In particular, the Mekong River Delta's provinces also preserve and develop art of Don ca tai tu music and song – Intangible Cultural Heritage of Humanity recognized by UNESCO.
Visit the Mekong River Delta to experience types of eco-tourism, culture tourism and wallow in green fruit gardens. The Mekong River Delta willingly welcomes visitors to enjoy and explore.
Credit: Photo and Information by Vietnam National Administration of Tourism