More Info
Cambodia home of the Khmer and one of the oldest reported civilizations, just opened its doors for tourists in the 1990's. It offers fantastic sights that are evidence of its ancient kingdoms, influenced first by hinduims and later by buddhism. the most famous sight is Angkor Wat, a once in a lifetime experience to dive into a lost civilization. However Cambodia offers more than this. Charming towns, beautiful beaches and untouched nature are also worth to visit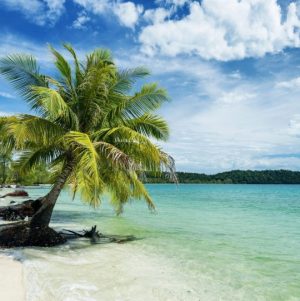 Nature
The landscape of Cambodia is dominated by one of the largest lakes in South East Asia – called Tonle Sap. Another important part is the Mekhong river and the Bassak river system. Three quarter of the country are covered by the Central plains that are surrounded by mountain ranges. In the west of Cambodia the Gulf of Thailand offers some beautiful beaches.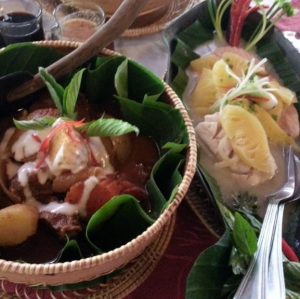 Cuisine
Khmer cuisine is dominated by rice and freshwater fish. The tastes varies a lot, similar to Thai cuisine, but using less chilli. traces of historical influences are found in their food too, such as indian curry, chinese and even french. A typical meal consists originally of three or four dishes with sweet, sour, salty and bitter sauces.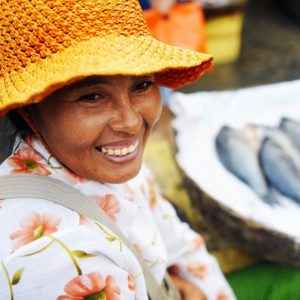 People
About 90-95% of the population is Khmer. The rest is divided in Chinese which are the biggest minority, muslim khmer and other ethnic hill tribes. In the capital Phnomh Penh are living about 10% of the inhabitants. The others are mostly living in rural areas and still practice their old traditions and lifestyle.

Cambodia's two seasons

Cambodia is warm to hot all-year-round and the climate is dominated by the annual monsoon cycle with its alternating wet and dry seasons.
Cambodia heats up steadily from February to April, with temperatures peaking as high as 40°C in April. Temperatures remain high in May and June, and the southwest monsoon brings in more humidity and some very sticky days! From July through October there will certainly be some rainfall but it usually comes in short showers. Unless you're in remote areas with bad roads traveling is perfectly comfortable during these months, and it's nice to see the rice paddies and tropical foliage at their most green and lush. The best months to visit Cambodia are from November to March with dry weather and lower humidity levels — of course, this is also the busiest time of year so expect some crowds and higher prices.