Cambodia travel information
Geography
Nestled against the southern portion of Vietnam, Cambodia faces the South China Sea to the south, and Laos and Thailand to the north and east. Most of the country is a flat plain, extending from the Mekong River and Tonlé Sap (Great Lake). The only mountain ranges are along the north and western borders with Thailand. Cambodia's main flight gateways are Phnom Penh and Siem Reap.
Climate
Cambodia has a tropical monsoon climate, with the rainy season June-Oct. and dry season Nov.-May.
Famous Destinations
Phnom Penh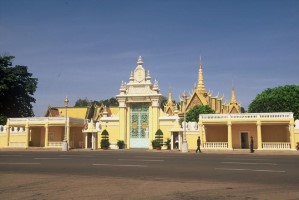 Phnom Penh, once known as the 'Pearl of Asia', is the capital and largest city of Cambodia. It is now an economic, commercial, cultural and tourist center.
Tourists can experience a fresh wave of Cambodian hospitality in this city of more than 2 million people. Cambodians are by nature cordial and friendly. Here in the capital city, people are more enterprising. The city is now a center of diverse economic and urban development.
Phnom Penh is now architecturally developed with several new high rise buildings including a 30 storey business centre. More high-rise buildings are being developed. Hotels catering to every level of desire have also mushroomed all over the city.
The riverfront is lined by chic pubs, bistros and boutique hotels. Smart little silk boutiques and galleries dot the side streets. A building arts scene and a heady dusk-to-dawn nightlife; such are what this pearl has now to offer.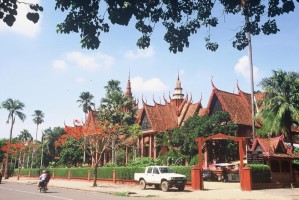 There are many places to visit when in Phnom Penh. Visitors can visit the Royal Palace and the Silver Pagoda located just next to the palace grounds, then stroll down about l00m to visit the National Museum. After which, walk along Sothearos Boulevard to patronise some neat 'antique' shops that sell silver trays, betel boxes, belts, ancient coins, silver or wooden statuettes and famed marble carvings from the province of Pursat.
It is pleasant to take leisurely strolls around Phnom Penh, browse the shops and take in the city. Boulevards peppered by beautiful colonial buildings and a park-like riverfront with cafes and restaurants together make this a beautiful city to visit. The art galleries on Street 178 between the National Museum and Wat Sarawan are a real treat.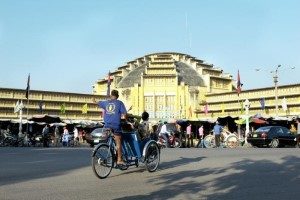 The 'Phsar Toul Tum Poung' or The Russian Market as its most commonly known, offers antique pieces and the opportunity to buy factory over-run designer clothes at huge discounted prices. For the visitor who prefers air-conditioned comfort, there are a few modern shopping complexes; the Sorya Shopping Centre, Sovanna Centre and the City Mall.
Sihanoukville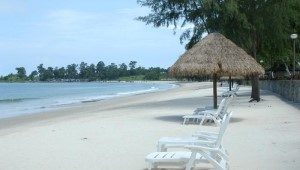 Sihanoukville province is a small southern province of Cambodia. The capital sits on a peninsula with beaches and tropical islands around. Sihanoukville (also known as Kampong Som or Kampong Saom) was founded in 1964 to be the only deep-water port in whole Cambodia. It is gradually being redeveloped as a tourist attraction, but despite the promise of massive Malaysian investment – a casino is planned for Naga Island – tourist numbers are still fairly low. Also its nice with sand beaches and several paradise islands have made it popular as a tourist destination.
Preah Vihear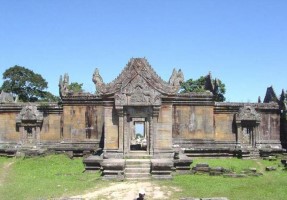 Preah Vihear province, which borders Thailand and Laos to the north, is home to three of the most captivating temples of the Angkorian era: the Preah Vihear temple, the Koh Ker temple, and the Preah Khan Kampong Svay temple. It also houses communities of many ethnic hill tribes.
Koh Ker used to be a capital of the Khmer Emperor King Jayavarman IV who built this city in the year 921AD. Some parts of the temples are still hidden in the jungle and are not accessible. The Preah Vihear temple is most significant in this province.
The temple of Preah Vihear, dedicated to Shiva, is situated on the edge of a plateau that dominates the plain of Cambodia. The temple is composed of a series of sanctuaries linked by a system of pavements and staircases over an 800 metre long axis and dates back to the first half of the 11th century AD. Nevertheless, its complex history can be traced to the 9th century, when the hermitage was founded. This site is particularly well preserved, mainly due to its remote location. It is exceptional for the quality of its architecture, which is adapted to the natural environment and the religious function of the temple, as well as for the exceptional quality of its carved stone ornamentation.
A unique architectural complex of a series of sanctuaries linked by a system of pavements and staircases on an 800 metre long axis, this temple is an outstanding masterpiece of Khmer architecture, in terms of plan, decoration and relationship to the spectacular landscape environment.
Preah Khan Kampong Svay, also known as Prasat Bakan, is a complex of gigantic proportions located in the southwest corner of Preah Vihear province. It covers an area 4 times that of the Angkor Wat with a 3 km long Baray and a large number of towers or Prasats within the compound. Largely unknown and rarely visited, the temple had been very badly looted over the years.
Siem Reap

The gateway for the Angkor complex, the city is also worth some exploration. Shady tree-lined boulevards and a slow-flowing river work between old French shop-houses and wooden stilt structures. A tourism boomtown, there is also a wide range of hotels, restaurants and nightclubs.
The magnificent Angkor Temple Complex is a UNESCO World Heritage area, and home to a plethora of incredible ancient temples, pavilions, and shrines. We recommend two days to see and appreciate the symbolism, symmetry, and spirituality found here.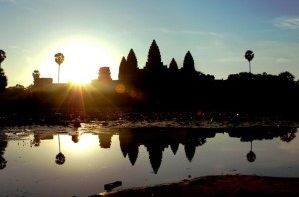 Angkor Wat – the biggest religious temple in the world covers 200 acres. Built in the early 12th century to honor Vishnu, a god-king, the temple complex is the prime example of classical Khmer art and architecture.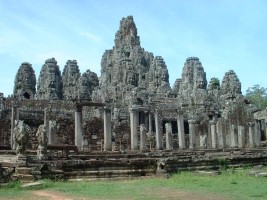 Angkor Thom – last capital of the Khmer Empire; a walled city enclosing residences of priest, palace officials, and a treasure trove of intricately carved ruins. The city is notable for its five monumental 65-foot tall gates decorated with stone elephant heads, and crowned by four gargantuan faces of the Bodhisattva Avalokitessvara. Home to the Bayon Temple, 54 towers decorated with over 200 smiling faces of Avalokitessvara.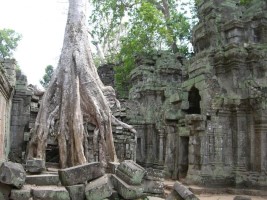 Ta Phrom – a beautiful jungle-covered temple, primarily left untouched.
Banteay Srei – outside Siem Reap, an enchanting 10th century Khmer temple showcasing exquisite, deep and complex carvings. The decorations are made from hard pink sandstone giving it a beautiful red color.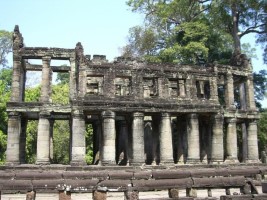 Preah Khan ("Holy Sword" Temple) – a large 139-acre Buddhist temple complex built in the late 12th century.
Kampong Chhnang
Kampong Chhnang is a province well known for its fine clay pottery. The name of the province says it all in Khmer; Kampong Chhnang means "Port of Pottery". The people of this province enjoy making pots, vases and various others types of ceramics during the off harvest seasons.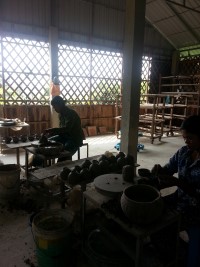 Interesting sights include two floating villages and a hamlet famous for its distinctive pottery.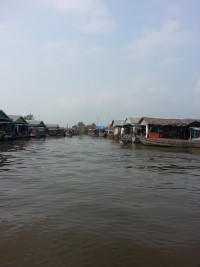 The quiet village of Ondong Rossey, is where the area's famous red pottery is made. Almost every household along this stretch of about 7km ride west of town through serene rice fields dotted with sugar palms, is making some form of pottery or so. The pots, mostly unpainted but decorated with etched or appliqué designs, are either made with a foot-spun wheel (smaller pieces) or banged into shape with a heavy wooden spatula (larger ones). It is interesting to watch the pots being made.
Credit: Photo and Information by Tourism Cambodia